Hugo PUOZZO
Biosketch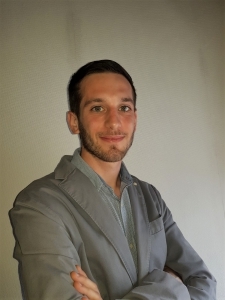 Hugo Puozzo obtained a Master's degree in chemistry from the University of Mons (UMONS, Belgium) in 2017. His Master thesis was developed under the joint supervision of Prof. Jean-Marie Raquez and Dr. Rosica Mincheva in the Laboratory of Polymeric and Composite Materials (LPCM) and dealt with the development of thermosensitive macromolecular systems enabling the capture of CO2 and its transformation.
He then had a working experience at Takeda (Lessines, Belgium), a global biopharmaceutical company, from 2018 to 2020 as a Qualification Technician to support the execution of qualification tests required for the validation of a new production unit dedicated to the purification of proteins from human plasma.
In May 2020, he joined as a PhD student the Laboratory for Chemistry of Novel Materials (CMN) at University of Mons (UMONS, Belgium) in the context of a FLAG-ERA transnational partnering project under the supervision of Prof. David Beljonne. His work will be focused mainly on running a joint experimental-computational investigation on the design and synthesis of new resins for pressure sensors.